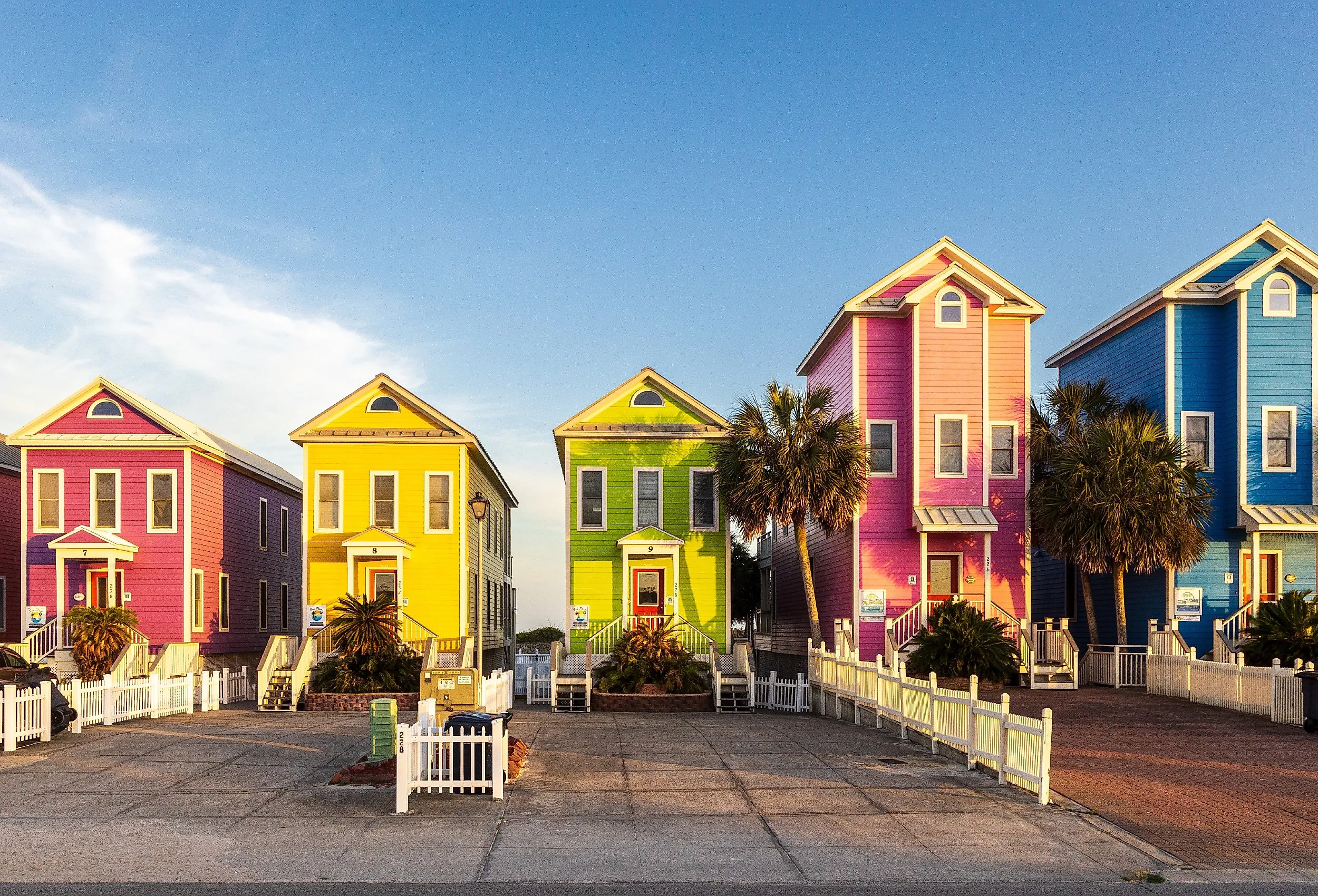 Florida's Emerald Coast is an unofficial name for the 100-mile stretch of land on the Gulf Of Mexico covering the five waterfront counties of Escambia, Santa Rosa, Walton, Okaloosa, and Bay. The Emerald Coast is known for having some of the best beaches in America, as most enjoy white sandy shorelines and crystal clear waters. With this natural gift comes an increased demand, resulting in crowded areas that sometimes cost you the beauty of the moment. However, if you know where to look, hidden among these bustling tourist destinations are many underrated gems that offer all the beauty without the summer crowds.
Alys Beach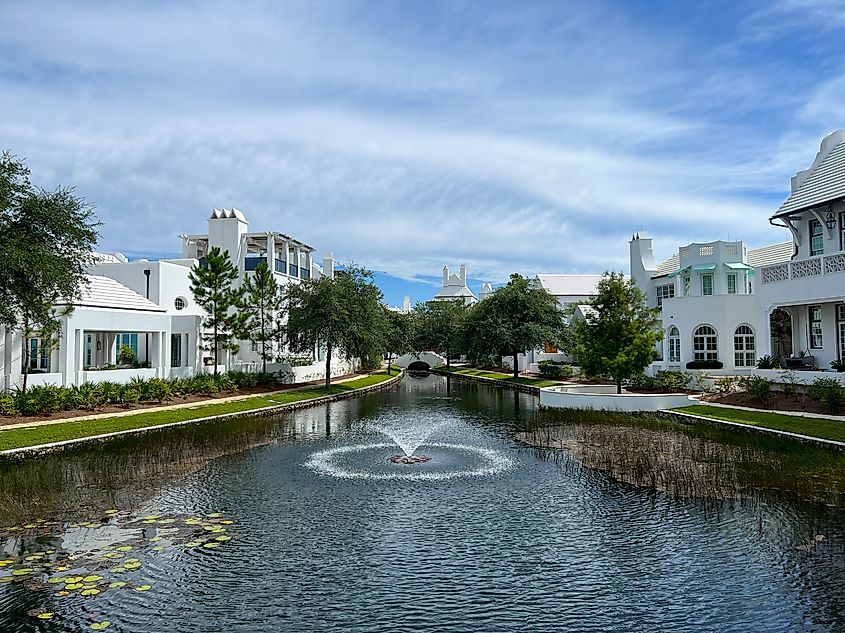 Alys Beach is one of the best Emerald Coast destinations to avoid crowds, tailored more toward the luxury escape experience. It is named after its artistic creator and designer, who envisioned an improved version of Florida's Emerald Coast's famous beach escape towns. Minimal architecture, pristine white sand beaches, and fine dining destinations differentiate this town from other calm beach escapes. Some of the town's main attractions include the Neat wine tasting room, the Citizen Diner, and Pescado's Seafood Grill & Rooftop Bar.
Shell Island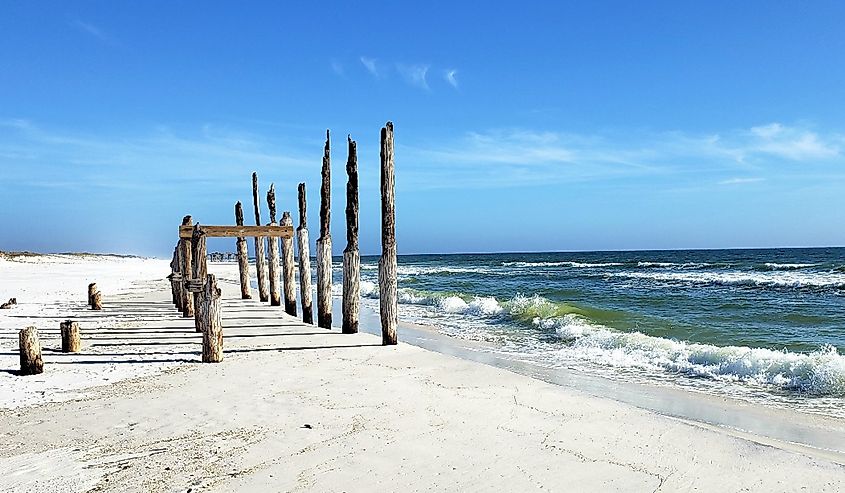 Due to limited public transportation, amenities, and entertainment options, it is one of the most secluded beach communities on Florida's Emerald Coast. Visitors of Shell Island often access the area through Panama City Beach by pontoon boats or the Shell Island Shuttle, as the island is not accessible by vehicle. The perfect destination to zone out and enjoy secluded beaches without overwhelming crowds, visiting Shell Island also increases your likelihood of spotting rare wildlife like bottlenose dolphins and sea turtles. This destination takes quiet and calm beaches to another level with its untouched sandy shorelines and limited public amenities, allowing visitors to enjoy their private beach fantasy to the fullest.
Dog Island
While the name may be slightly misleading, this beach island sits 3.5 miles off-shore from Carrabelle, offering some of the most secluded beach experiences. This island is also located on the Gulf of Mexico but is separated from Lanarak Village and other neighboring towns by the St. George Sound. One of the only ways to access the island is by renting a boat from Carrabelle. While part of the island is privately owned, most of it belongs to the Nature Conservancy and is open to the public all year round. Despite having no public amenities or local shops on Dog Island, it is home to over 100 residents with private properties.
Carrabelle Beach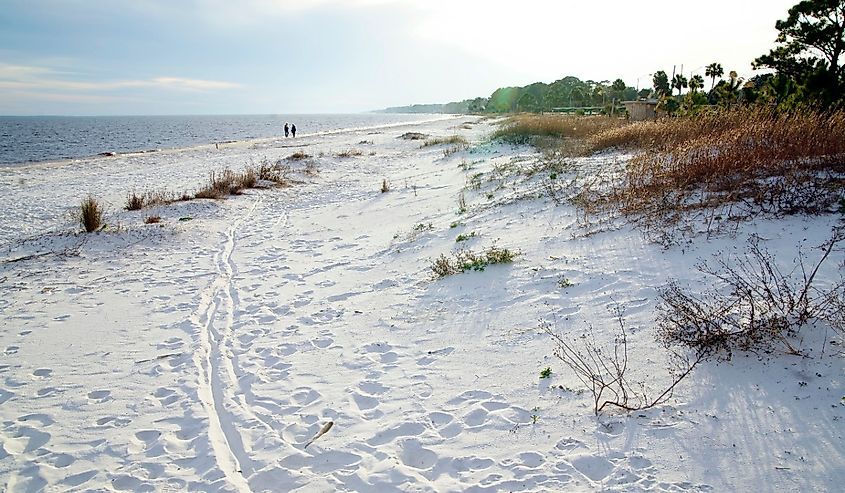 A gateway to the ultimate secluded beach experience of Dog Island, Carrabelle Beach is an underrated quiet beach escape with a rich marine history and more entertainment options than its neighboring isolated islands. Despite the peaceful beach atmosphere, the downtown area offers spontaneous shopping destinations on its main street of Ave A, Marine Street with Mercantile's colorful gift shop, Shop By The Sea, and significant landmarks like the World's smallest police station. Choose between the original Carrabelle Beach, The Gulf Beach Park, the partially green Smith Beach, or a downtown Marine St Pavilion for a more scenic view. Take the time to visit the Carrabelle History Museum and the crooked lighthouse from 1895 during your free time out of the water.
St George Island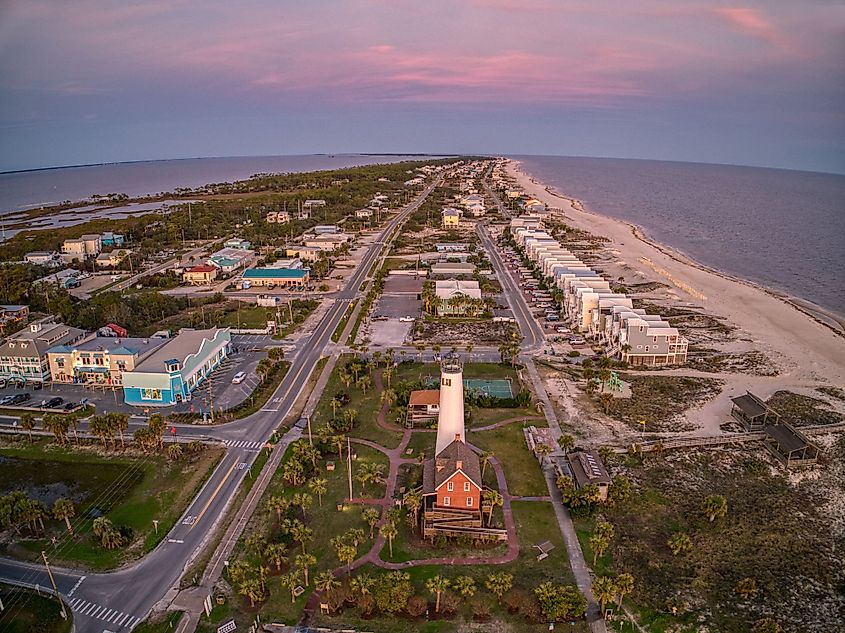 A small barrier island community with more of a small-town feel, St George balances a range of community events, shopping destinations, and calm beaches. St. George is still a famous beach town and summer escape but enjoys less crowded beaches for its unlimited options. Some of the best calm beach areas in St. George include Dr. Julian G. Bruce St. George Island State Park on the east end of town, Unit Four Beach, and East End Fishing Beach. St. George stands out with its quirky beachfront rentals and laid-back nightlife of chill bars and pubs. Some of the best spots for a drink include Blue Parrot Ocean Front Cafe, Paddy's Raw Bar, and Harry A's Bar & Grill.
Blue Mountain Beach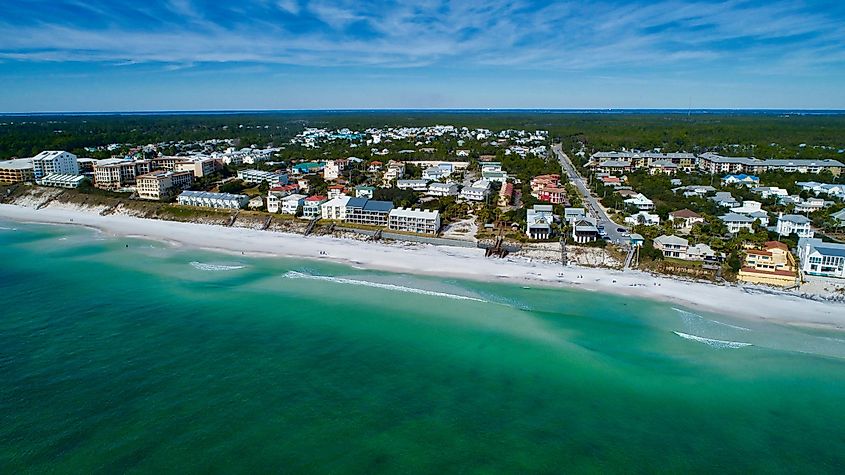 In Santa Rosa Beach, Florida, Blue Mountain Beach is named after the blue lupine flowers that grow among the dunes. Offering some of the best vistas in Florida's Emerald Coast, Blue Mountain Beach enjoys the highest elevations in the area. The advantages of Blue Mountain Beach include its strategic location between more popular beaches like Grayton and Dun Allen Beach, allowing visitors to explore both sides of the Emerald Coast beach experience. Blue Mountain Beach is also famous for freshly caught seafood, best found at Blue Mabel Restaurant & Bar.
Alligator Point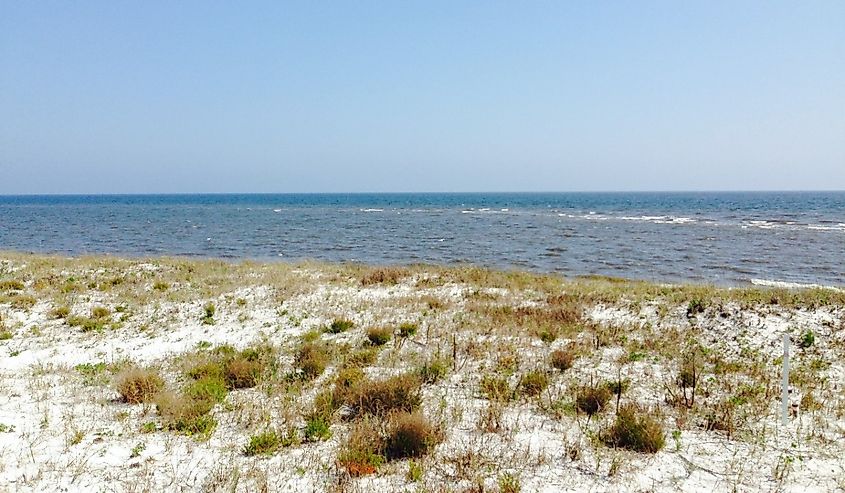 A fisherman's paradise, Alligator Point offers the perfect calm environment to cast your rod and relax, offering both in-water and on-shore fishing spots. Due to its secluded location beyond the bold point on Saint James Island, Alligator Point attracts fewer tourists and weekend escapers. The peaceful remote island is one of Florida's most calm and relaxed communities, with beautiful waterfront bungalows and family-friendly vacation rentals. Have the beach to yourself and catch fresh seafood of fish, shrimp, and more.
Topsail Hill Preserve State Park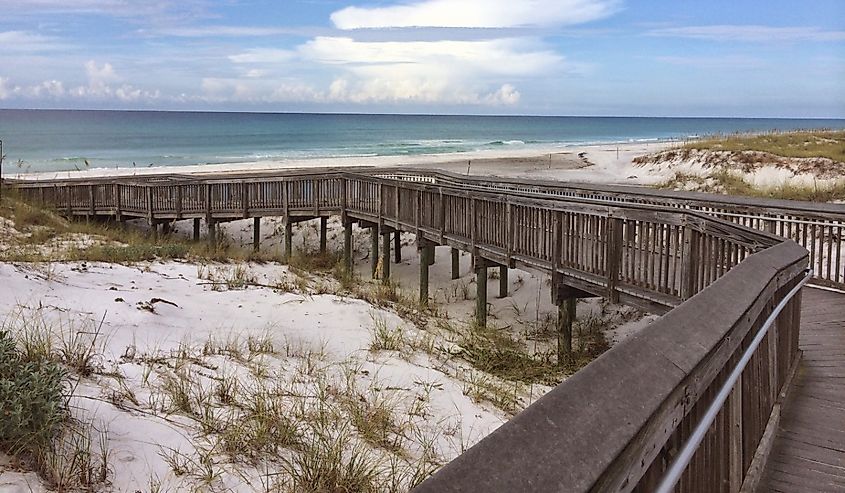 Topsail Hill Preserve State Park is a secluded destination that emphasizes nature. From sky-reaching palm trees to untouched seashell beaches, Topsail Hill has very few beach rentals, making it the perfect secluded spot. The preserve park's management also works to keep the area naturally rich, limiting development and populations in nearby regions. Waterfront bungalows and a remote campground will be the highlight of your stay at Topsail Hill Preserve State Park. Catch a tranquilizing hike to freshwater endings at three of the most popular hiking destinations in Topsail Hills. Morris Lake Trail, Topsail Hill Deer Track Trail, and the beach hike of Campbell Lake are some of the most accessible trails to test your skills or learn a new hobby.
Cape San Blas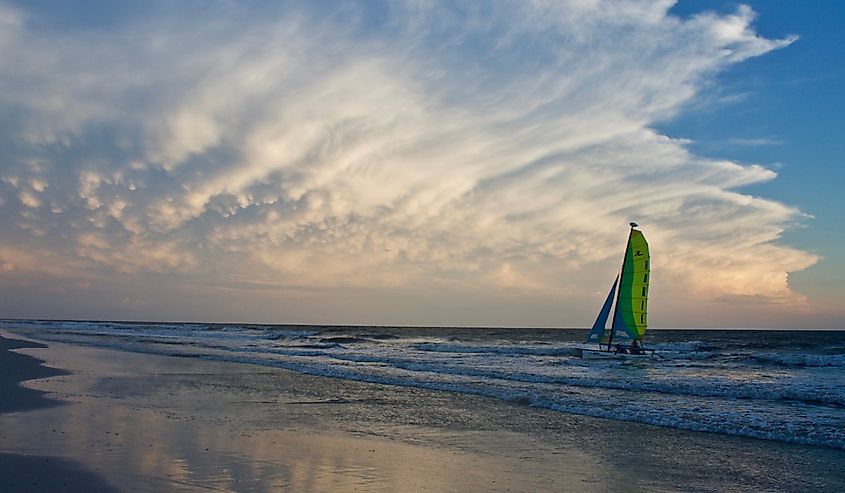 A nature-centric destination for calming beachfront bike rides, this destination offers one of the longest bike trails, perfect for avoiding summer crowds. Cape San Blas, which is commonly referred to as Cape Sandblast, is one of the most secluded spots on Florida's Emerald Coast. It is also a stone's throw away from small historic districts and significant American landmarks like the Apalachicola Historic District, Apalachicola Maritime Museum, and Camp Gordon Johnston. Turn your weekend escape into a week-long exploration, and visit Cape San Blas' neighboring communities.
Seagrove Beach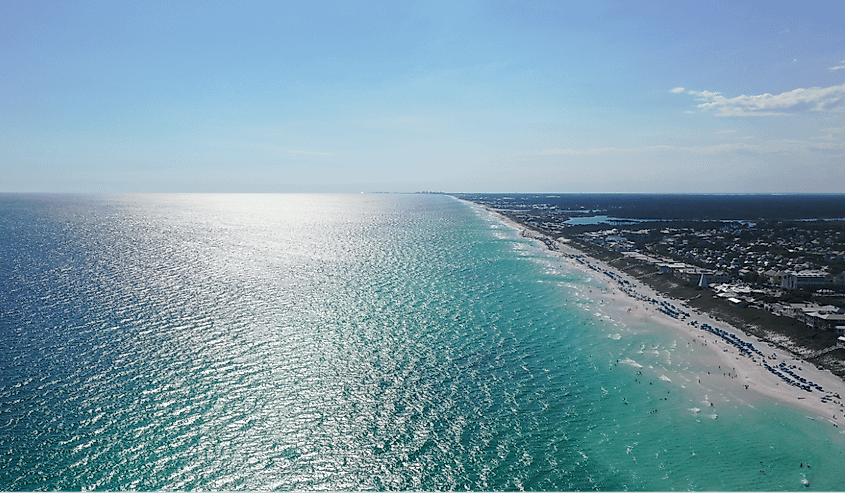 Seagrove Beach features the perfect traditional American small-town feel of locally owned family shops and cozy weekend rentals. While this underrated beach town isn't completely isolated into the wilderness, it ranks high for its welcoming locals, quaint old-town atmosphere, and cute local dining spots. Seagrove Beach is also home to Eastern Lake and Deer Lake, South Walton's rare coastal dune lakes. CH McGee founded the community in the late 1940s. His vision included 170 acres of beach with concrete block cottages, sand roads, and a general store. Today, the escape destination is dotted with vacation rentals and small businesses yet still maintains its quite calming atmosphere thanks to its unclustered urban setting.
Inlet Beach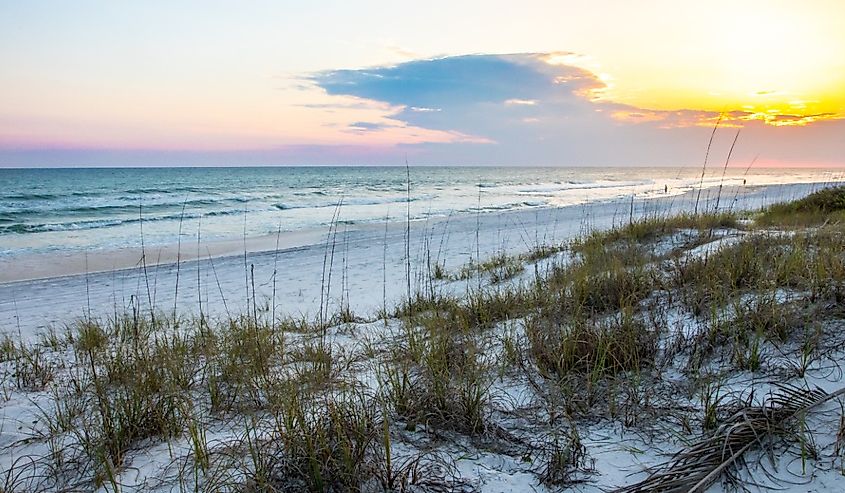 Minutes away from Panama City Beach are the white sand beaches and turquoise waters of Inlet Beach, the ideal place to relax on the shore and read your book while catching a tan and hearing waves hit the coast. Inlet Beach is a nationally listed State park with a small beach lovers and vacationers community. The town is named after Phillips Inlet, a rare coastal dune that protects the shoreline from high tides. Cool places to check out within the community include the 30A Farmers Market in Rosemary Beach and heading out to Panama City Beach for shopping and entertainment.
Mexico Beach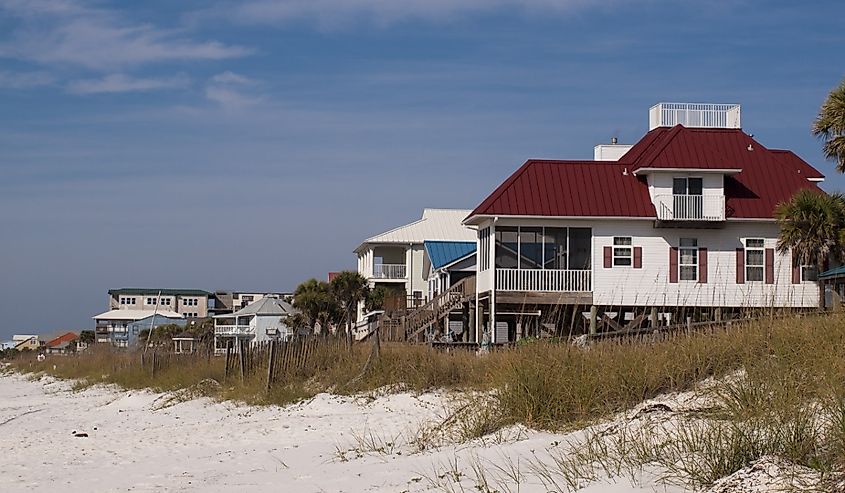 Mexico Beach is a town with some of the best waterfront rentals. Enjoy the sound of the calming waves as you snooze off, wake up to a refreshing dive, and sit back, embracing the tides that wash up on your front porch when you stay in Mexico City. In addition to Mexico Beach itself, other popular beaches include Crooked Island Beach and St. Joe Beach. Some of the most common vacation rentals in Mexico Beach include Pristine Properties Vacation Rentals and The Crab Shack Beach House Rental.
Florida's Emerald Coast is home to diverse waterfronts, from calm areas of popular beach towns to a completely off-grid setting. Take your time to discover the level of peace you are after by staying in locales like Dog Island and Carrabelle Beach, and find your next secret go-to spot on Florida's Emerald Coast.