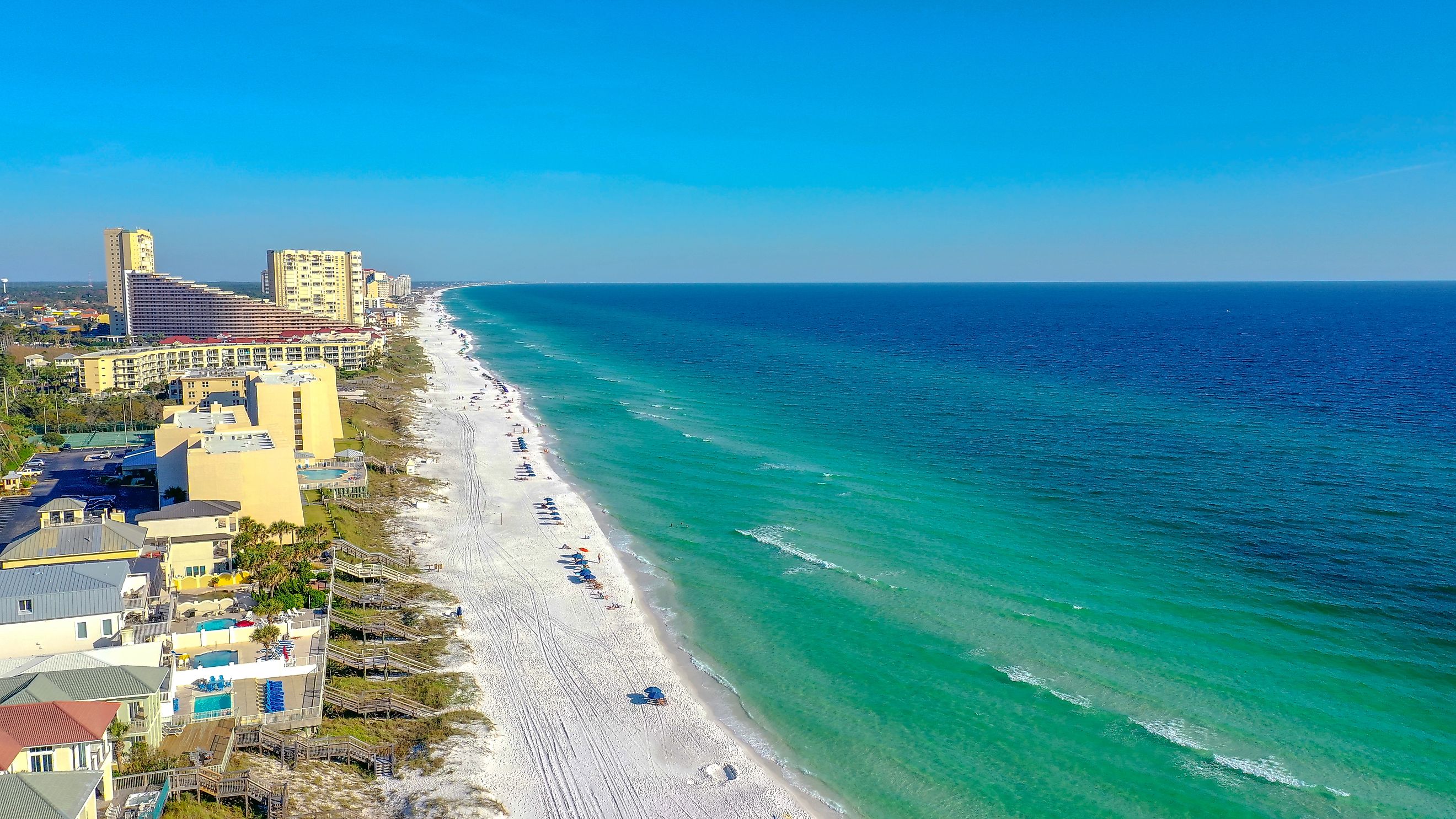 The Best Small Towns In Florida's Emerald Coast To Chill Out
Florida's beautiful Emerald Coast is the ultimate chill-out destination, with its stunning white sand beaches and deep-green ocean. The Emerald Coast lies in Florida on the Gulf of Mexico between Pensacola in the west and Port St. Joe in the east. It stretches across Escambia, Walton, Bay, Okaloosa, and Santa Rosa. St. George Island, Okaloosa Island, and Santa Rosa Island protect this stunning coastline from violent storms like hurricanes. Several small towns dot the coastline, each with a unique character and one-of-a-kind attractions. For a truly relaxed beach day (or week), you can't go wrong with any of the following.
Seaside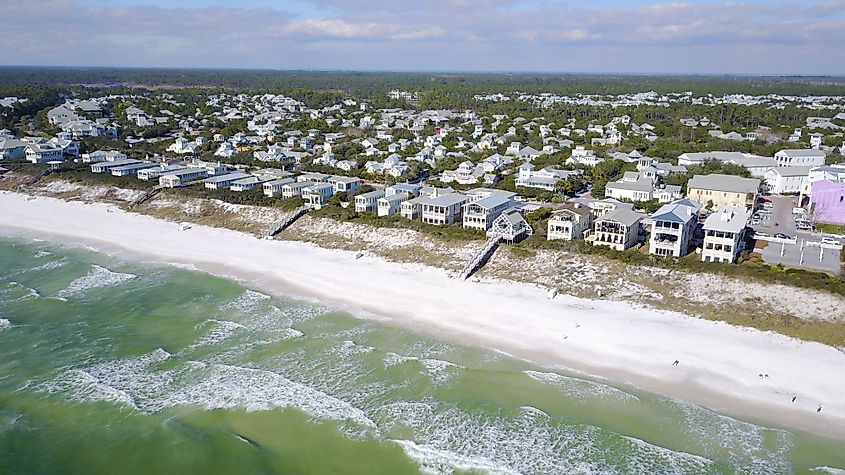 Seaside is an unincorporated community situated on the Florida Panhandle in Walton County. Destin and Panama City Beach sit on either side of the town, famous for being one of the first American communities designed according to New Urbanism. Seaside lies adjacent to the Gulf of Mexico and is home to the Annual 30A Songwriters Festival. This small town is also the location of the classic film, The Truman Show, and, like the movie, embraces the concept of a simple, peaceful lifestyle.
Visitors flock to the area to soak up the sun and visit the infamous Modica Market, which is still the only grocery in town. Away from the center of town is a tranquil park, Ruskin Place, where visitors can check out art galleries or relax on a bench in a woodsy area known as the Fairy Forest. There is also the breathtaking Scenic 30A highway to explore, which winds through several towns and state parks and passes some of the Emerald Coast's best beaches.
Matlacha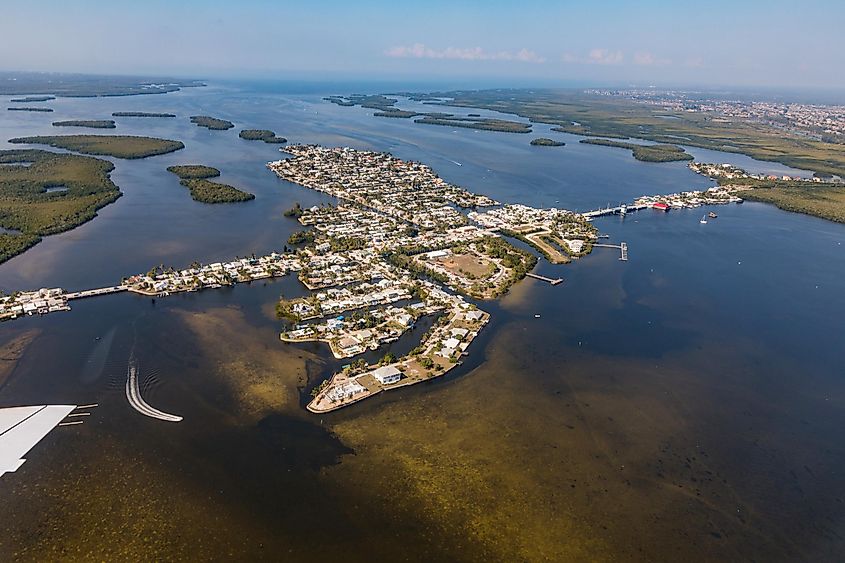 When the commercial fishing industry took a downward dive in the 1990s, the residents of tiny Matlacha Island took matters into their own hands. They painted every wall they could find in the brightest colors and reinvented their town as a fishing arts community. Today, Matlacha still offers lazy fishing days in the Matlacha Pass, which brims with snook, redfish, trout, and even sharks. The best fishing spots are on or under the Matlacha Bridge, but the island also rents kayaks for bay and inlet fishing.
For an educational day out, there is MOTI, the Museum of the Islands, where visitors can get a glimpse into what life was like a hundred years ago. In the middle of the island, the Leoma Lovegrove Gallery and Gardens awaits art lovers. The owner, Leoma Lovegrove, is a world-famous artist known for her colorful paintings. For those who want a little adventure on a relaxing day out, there is the option of kayaking or paddling the Matlacha Aquatic Preserve.
Rosemary Beach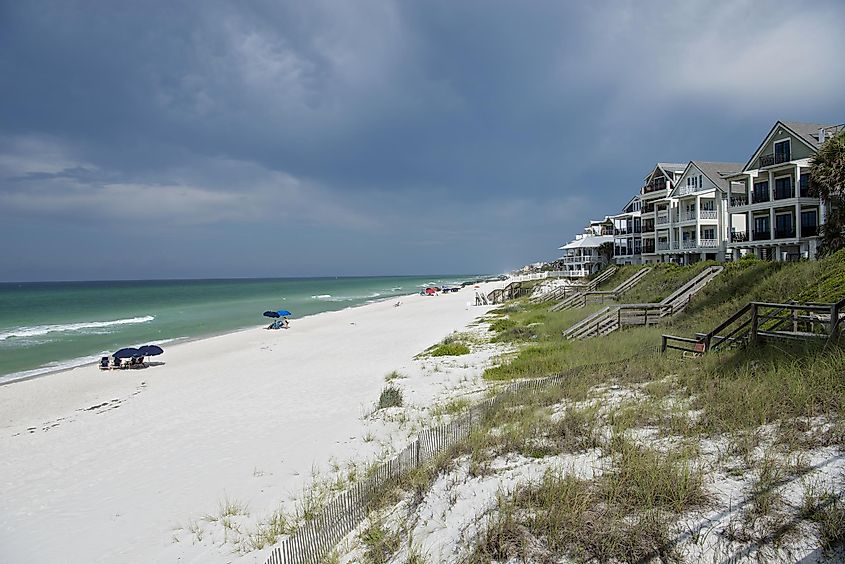 Rosemary Beach sits on a piece of land that once formed part of the Inlet Beach neighborhood in Walton County. The town is rich in wildlife thanks to the multiple nature reserves that surround it, including Timpoochee Trail and Deer State Park, Eden Gardens State Park, and Topsail Hill Preserve State Park.
Rosemary Beach is well known for its incredible stretch of white sand beach. The town also has four pools to elevate even the shortest vacation, as well as several biking trails. Families can enjoy the Moonlight and Movies and Face Painting at the Western Green every Thursday or visit the Butterfly Garden, which is filled with beautiful plants to lure an assortment of butterflies. One of the closest nature reserves to Rosemary Beach, Camp Helen State Park, offers large green spaces for swimming, hiking, fishing, and picnicking.
Cedar Key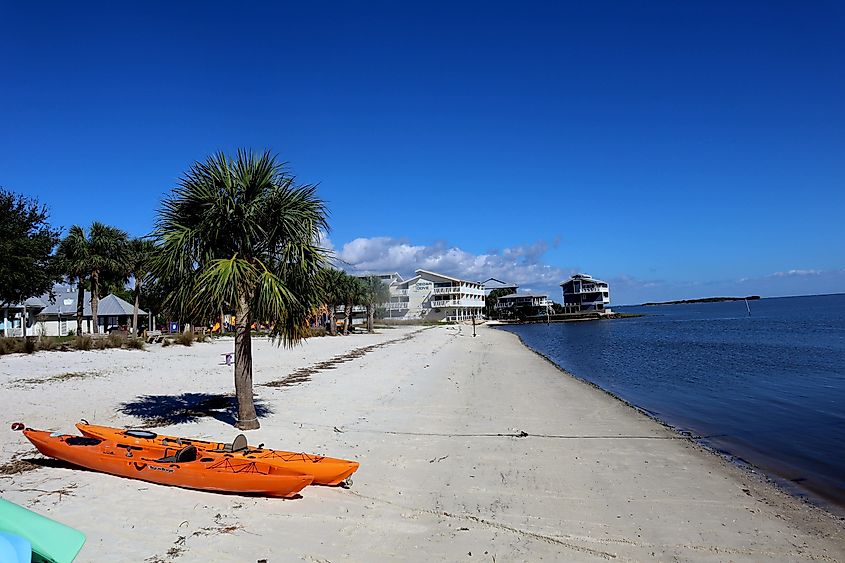 Highway 24 is the only way to get into Cedar Key, one of several barrier islands off the Emerald Coast. This quaint island town, the second oldest in Florida, only has around 800 permanent residents and has perfected the small-town look and feel. Cedar Key is a wonderful place to birdwatch, fish, kayak, and go on guided coastal tours. The island is home to several bird species, including the bald eagle, white pelican, and roseate spoonbill.
There are many Indian shell mounts and salt marshes for hikers to explore and narrow lanes to bike. Cedar Key also offers the opportunity to kayak out to an island ghost town where abundant wildlife and a wonderful coastline awaits. Atsena Otie Key was once home to the original town built in the group of islands. It boasted a pencil-wood factory and hundreds of residents before a devasting hurricane in 1896 flattened everything in its path.
Miramar Beach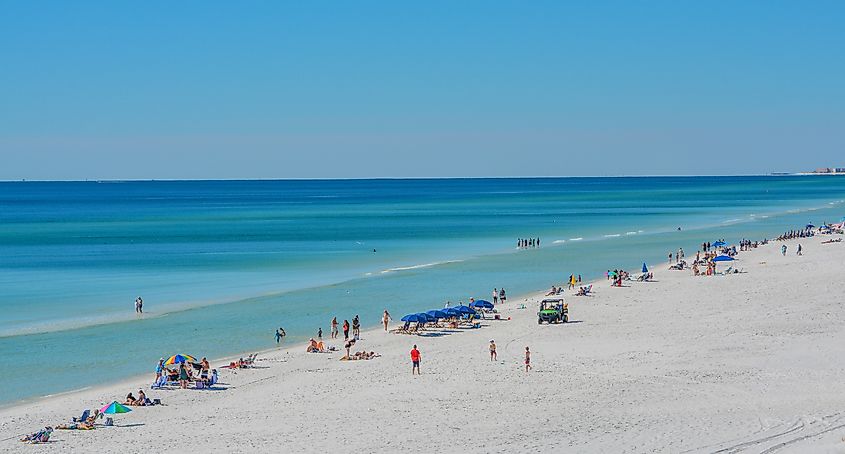 Miramar Beach, in South Walton, provides some of the most spectacular views of the gulf. It is one of the most popular swimming spots in Florida, and there are several ways to explore the coastline, including jet skiing and kayaking. The town is surrounded by Topsail Hill Preserve State Park, and Henderson Beach State Park, both of which offer incredible views of the surrounding vistas.
There is no need to book a table at a restaurant for dinner while in Miramar Beach since visitors can catch their dinner. Several charter companies offer fishing trips for those eager to discover what lies beneath the ocean surface. Visitors who don't want to have to wait for dinner can indulge in excellent seafood from the restaurants lined up near the beach.
St. George Island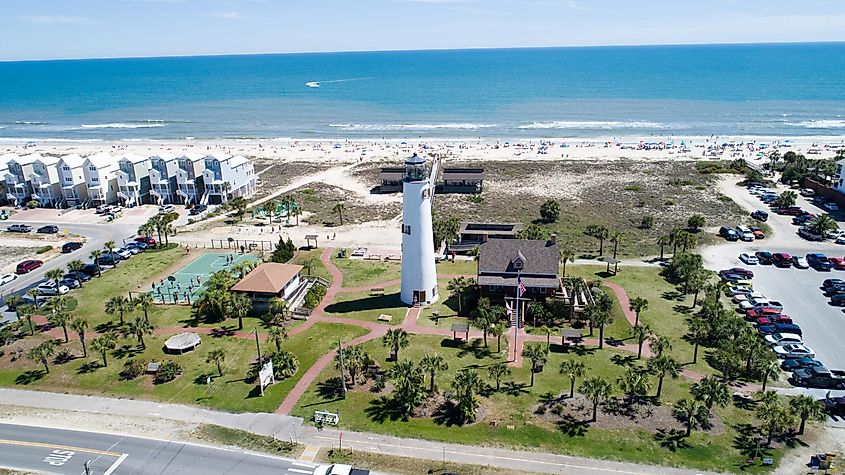 St. George Island is a 28-mile unspoiled barrier island off the Emerald Coast. It is consistently named one of the best beaches in America and offers beach cottages and luxury rentals for vacation goers. St. George Island is also infamous for being one of the most tranquil spots on the gulf, with many homeowners renting out their homes during summer.
The island incorporates the St. George Island State Park, which offers swimming and camping facilities. The park has several hiking trails and observation decks, which are popular with birdwatchers. The area is well known for its seafood, including oysters, redfish, snapper, flounder, and more. Visitors often flock to St. George Island to observe loggerhead sea turtles preparing to lay eggs during May and October.
Port St. Joe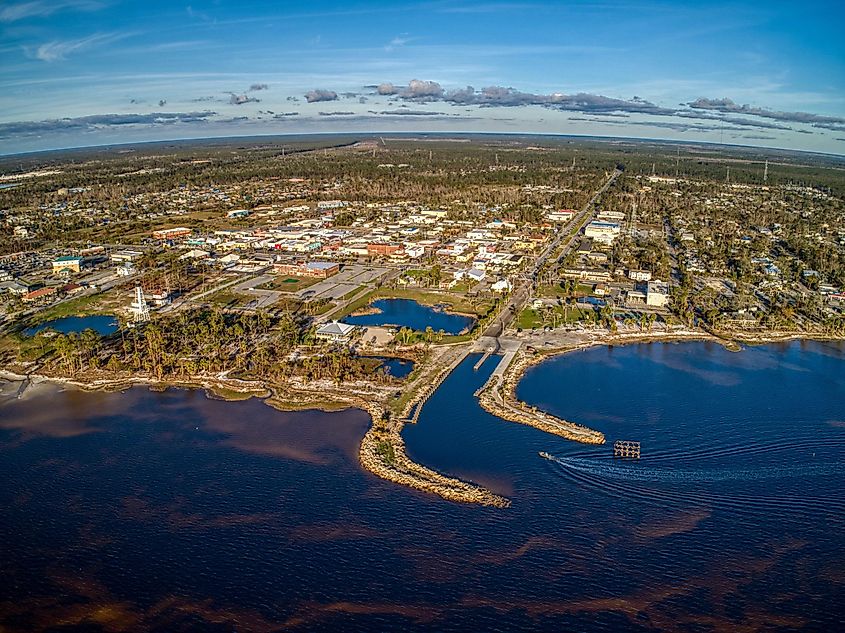 Port St. Joe has a white-sand dune beach and clear water, perfect for snorkeling. This inviting place lies along the Emerald Coast within the Florida Panhandle and has less than 3,400 permanent residents.
In 1837 it was the largest settlement in Florida, thriving deepwater seaport and railroad. A massive fire in 1841 and several yellow fever epidemics wiped out much of the population. Those who survived the tragedies left, and by 1842, only around 500 people were left. More destruction followed in the form of two hurricanes which left the town nearly desolate.
However, a new town called Port St. Joe sprung up in 1909 when the railroad returned. Today, the town is prospering, even after one of its largest businesses, a huge paper mill, closed down in 1999. It offers a historic downtown area, magnificent beaches, and rustic beach shacks that serve the freshest seafood.
One of Port St. Joe's main attractions is the Cape San Blas Lighthouse which houses a gift shop. Climbing to the top, visitors will experience panoramic views of the landscape around the lighthouse. There is horseback riding on the beach, stargazing, and sailing to do, as well as day trips to Frank Pate Park.
Inlet Beach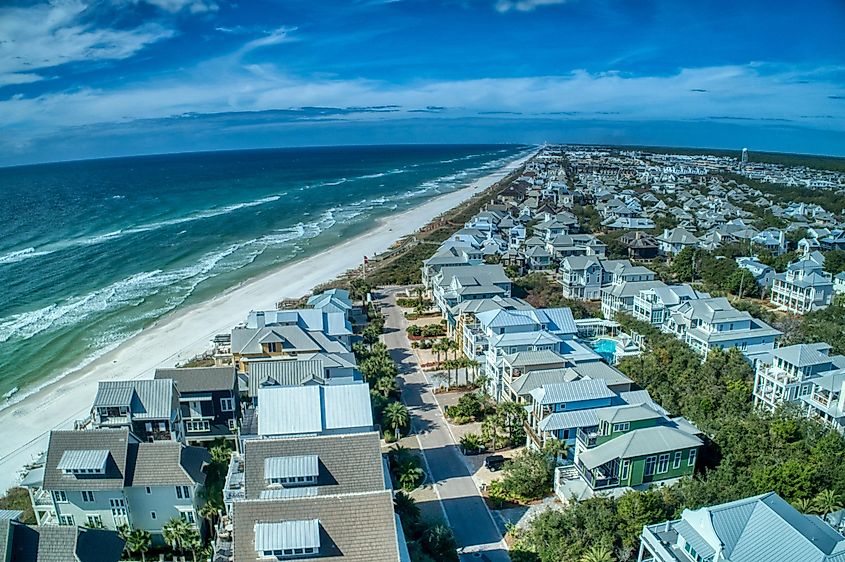 Inlet Beach shares a border with the magnificent Camp Helen State Park and is one of the most rapidly expanding beach towns in South Walton. Visitors come here for the views and stay for the quiet, unspoiled sand dunes and stunning reefs.
The Timpoochee Trail allows people to ride bikes or walk through wooded areas and along beaches while checking out restaurants and shops. There is lots of fishing and biking to do at the Timpoochee Trail and Deer Lake State Park, and visitors can try their hand at golf in the Eden Gardens State Park. For those looking for more of a thrill, there is the Panhandle Helicopter that offers unmatched views of the Emerald Coast and two-hour dolphin tours that show off these beautiful creatures in their natural habitat.
Sanibel Island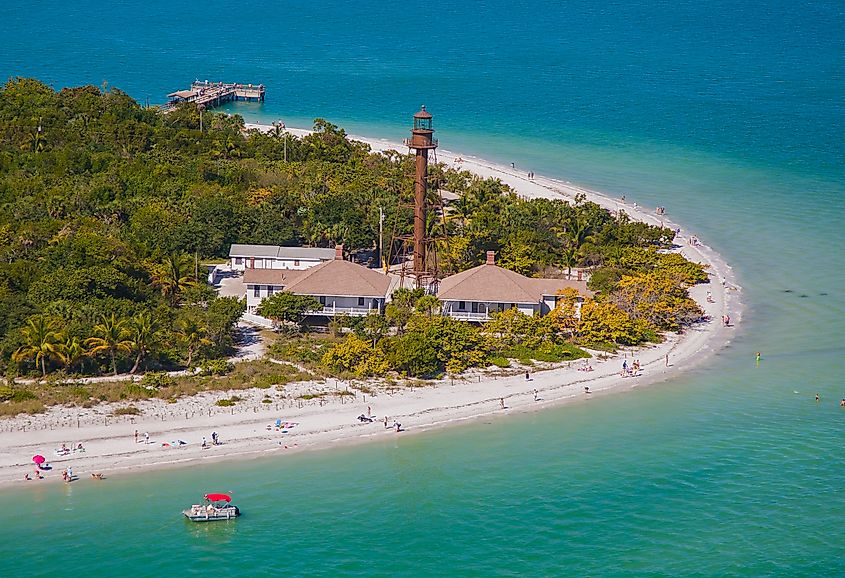 Sanibel Island is a magical place where pastel-colored seashells spill onto the beaches and dolphins frolic close to shore. Sanibel's beaches are all dog-friendly and a haven for sea turtles and seabirds.
There are over 25 miles of biking trails to enjoy and several bike rental shops on the island. Along the bike path are the Shell Museum, Historical Museum, several restaurants, and ice cream shops. Sanibel also has a prime fishing spot, namely the pier at the Lighthouse Beach Park, and visitors can also rent a fishing charter at the Sanibel Marina. Other fun activities include camping at the Periwinkle Park and Campground and kayaking at J N Ding Darling National Wildlife Refuge.
Grayton Beach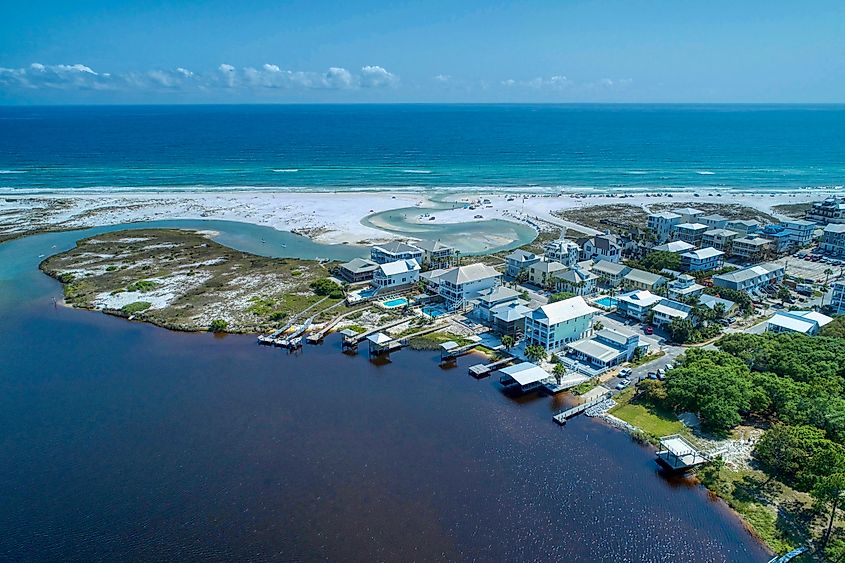 Grayton Beach is a historic village located on the Panhandle Gulf coast between Panama City and Destin. It is one of the most laid-back beach towns in Florida, with its pastel cottages and gorgeous views. Grayton Beach is home to Grayton Beach State Park, where visitors can take to the water on paddleboards or kayaks to watch the sun go down. The park also offers impressive views over the dune lakes of Highway 30A.
A must-see attraction near Grayton Beach is the first permanent underwater sculpture museum which sits about a mile offshore. The museum doubles as an art gallery and a reef habitat for marine life.
Mexico Beach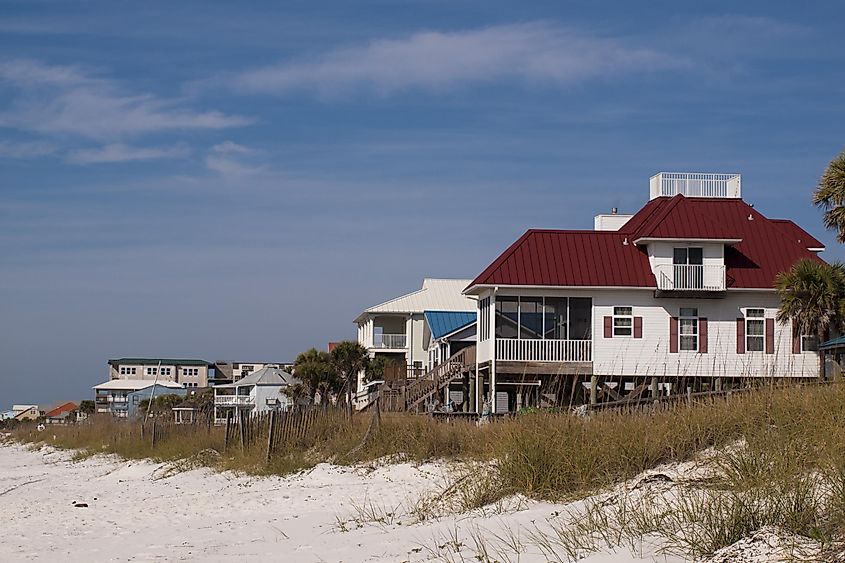 Mexico Beach lies 20 miles east of Panama City on the Undiscovered Gulf Coast. This coastal community is known for its serenity and small-town charm. Mexico Beach is a natural habitat for several bird and animal species, including loggerhead turtles, hawksbills, pelicans, egrets, bald eagles, herons, and more.
The City Pier offers several picnic and fishing spaces, while the St. Vincent Wildlife Refuge nearby is great for birdwatching and spotting wild boars or foxes. Visitors who want a bird's-eye view of the beach can go parasailing, and those who want to be closer to the water can book a fishing charter or reef diving trip for the whole family. At the end of a fun-filled day, the Rustic Sands Campgrounds offers an authentic beach camping experience under the stars.
No matter which of the above beach towns you choose for an Emerald Coast vacation spot, you are bound to have a fantastic road trip experience on the 30A and moments of true relaxation on the sugar-white sand beaches. Throw in a sunset or two, and you have a vacation destination made in heaven.